Looking for the perfect book to give someone this Christmas? Maybe we can help…
The Giver of Stars – Jojo Moyes
Times are hard in Kentucky at the end of the Great Depression. Five women set out to bring some light back into people's lives, through books. This isn't your average mobile library; the librarians have to travel hundreds of miles every week, on horseback. Amongst them is Margery – whose family and unconventional lifestyle mean she's all but ostracised by 'polite society'. And Alice – a lonely incomer far from home. A great story, great characters and great writing make The Giver of Stars the perfect gift.
The Ten Thousand Doors of January – Alix E. Harrow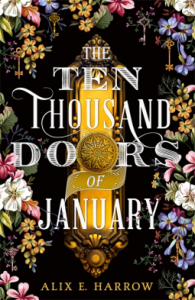 January Scaller finds her first Door when she's seven years old. It leads to somewhere far from her cosseted life as the foster daughter of a rich man. Little girls grow up and learn not to believe in the impossible. But then a strange book appears, just as January's real father vanishes, and January sets out to discover the truth about Doors. One of the best fantasy books of 2019, this is a must for fans of Neil Gaiman and Philip Pullman.
The Secret Series – Pseudonymous Bosch
Young adventure fans are sure to appreciate this series, starting with the first book – The Name of This Book is Secret. (My ten year old daughter devoured all five in quick succession.) Cass and Max-Ernest are unlikely friends who find themselves caught up in a quest to uncover a secret. Danger, mystery, friendship, villains and humour abound.
Sweet Sorrow – David Nicholls
It's 1997. Charlie Lewis has just left school and has one long summer ahead of him before finding a job and entering the world of adults. Joining a theatre group wasn't in his plans, but if that's what it takes to win the love of Fran Fisher, he's prepared to unleash his (very) hidden thespian. An enjoyable, humorous book ideal for anyone who came of age in the 90s or who has bittersweet memories of their first love.
Never Have I Ever – Joshilyn Jackson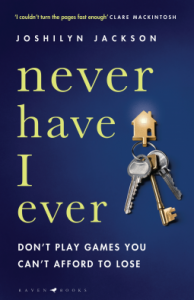 A seemingly innocent game to liven up a book club turns into a tense game of cat and mouse as one woman threatens to reveal a long-buried secret. How far will Amy go to protect the fragile life she's built for herself? A good choice for fans of twisting, suspense-packed thrillers.
The Hairy Bikers' One Pot Wonders – Si King and Dave Myers
The Hairy Bikers are back with another cookery book packed with more than 100 recipes. Create delicious dishes with minimum effort and mess. Recipes include Sausage and Bean Tray Bake, and Boozy Syllabub Trifle. Just make sure the recipient of your gift invites you over for dinner soon.