Join Captain Ducky and his pirate crew on Sunday the 16th of June and see the spectacle of thousands of rubber ducks being poured into the river Thame on a race to victory!
The Duck Race is a much-loved yearly event to raise money for local charities in a fun way for all the family. Your numbered ticket corresponds to an individual duck. The first three ducks to cross the finish line will win John Lewis vouchers, with all other proceeds donated to local causes.
The ducks will be helped along the route by the high-pressure hoses of the Oxfordshire Fire and Rescue Fire Engine. Additionally, to make sure no duck is left behind the Oxfordshire Lowland Search and Rescue team will be taking to the water to give all the ducks a fighting chance.
Alongside the professionals, local Pirate celebrity Captain Ducky, will attempt to navigate the river with an entertaining but less than seaworthy vessel. There may be a chance of a few leaks developing during the race which will only add to the enjoyment of the kids watching the show from the river bank.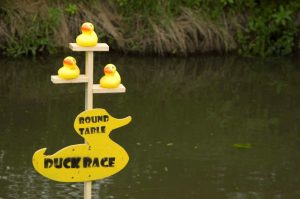 The race starts on the old town bridge, accessed via Priest End, behind St Mary's church. Gates open at 10.30am and the race will start at around 11.00am.
Tickets are on sale for £2 per duck, from local groups, Thame Town Hall and at Thame Carnival held the day before the race. There may be a limited amount of tickets on sale at the start line on the morning of the race but in previous years the event has sold out so it's best to buy your tickets in advance if you can.
The Duck Race is run by Thame & District Round Table, the same guys who bring Santa around Thame and the local area at Christmas time.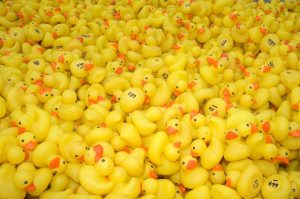 To find out more and join the Thame & District Round Table team Visit our webpage https://thameroundtable.org/
Like our Facebook page https://www.facebook.com/ThameDistrictRoundTable753 or drop us an email chairman@thameroundtable.org
Thame & District Round Table 753, Registered Charity 1066938