If this summer's holiday plans haven't panned out as you had hoped – and let's face it, most people's haven't – then why not do something amazing this winter?
Lots of true 'bucket list' destinations are expensive and involve long-haul flights and a range of difficulties, but the Northern Lights is a once-in-a-lifetime experience that is readily accessible. Flights to a number of destinations in Iceland, Norway and Finland, for example, are available from most regional airports giving you the opportunity to see one of Nature's miracles for yourself.
The Aurora Borealis is best seen where there is little or no light pollution and for this, Iceland is perfect. With short flights to Keflavik (the nearest airport to Iceland's capital, Reykjavik) from the UK, this is a great base for your search for the Northern Lights. Minibuses pick up tourists from locations around Reykjavik each evening and drive into the dark areas of the sparsely populated countryside, pausing to enable passengers to disembark and take photographs as and when the Lights make an appearance. An alternative is to take a Northern Lights cruise and if getting out on a boat is an option, why not go whale-watching too.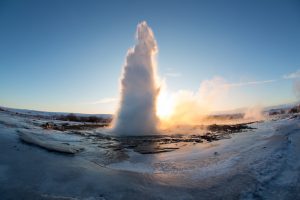 There is so much more to do with excursions offered around Iceland's famous Golden Circle. This tour includes the Geysir geothermal area where hot water geysers shoot into the sky every few moments and the spectacular Gullfoss Waterfall. Then on to Thingvellir National Park with its amazing scenery – an absolute must for Game of Thrones fans. This is where the world's first parliament was established by the Vikings in 930 AD, making it the oldest parliament in the world. The park sits in a rift valley caused by the separation of two tectonic plates, Eurasia and North America. There's also the Kerio volcanic crater to explore and the incredible Blue Lagoon where you can bathe in the relaxing geothermal waters.
Reykjavik is a friendly city and Iceland's economy relies heavily on tourism, so you'll find plenty of people keen to help you make the most of your Icelandic experience. The city itself is home to the spectacular Lutheran church of Hallgrimskirkja and walking and cycling tours are highly recommended.
This truly is the Land of Ice and Fire and a short break here is an unforgettable experience.  Contact Spear Travels on 01844 217228 or call into 5 Greyhound Walk for more information.