Fantastic shows for families this season at Wycombe Swan
If you're looking for family friendly theatre shows Wycombe Swan have a fantastic 2017 season that'll entertain big kids, little kids and grown-ups alike. The below shows are suitable for ages 3+ and you can expect big imaginations, epic adventures and classic stories. From child-friendly plays to all-ages ballet there's a great choice of family shows for everyone to enjoy.
Beauty and the Beast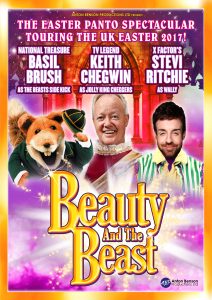 Sun 9 – Mon 10 April
It is up to Jolly King Cheggars, the village idiot Wally and Dame Dolly Dolittle to save the day and unlock the Beast's magical secret. Starring Keith Chegwin as the Jolly King, Basil Brush as the Beast's hilarious sidekick and X Factor's Stevi Ritchie as Wally and supported by a full professional cast, live musicians and local juvenile dances. Prepare yourself for an all-singing, all-dancing, laugh a minute ride through the fun and frolics of panto land.
Alice in Wonderland
Wed 12 – Thu 13 April
Come with Alice on a magical adventure as she tumbles into Wonderland! A ballet based on Lewis Carroll's much-loved children's books, Ballet Theatre UK has created a captivating piece, brimming with wit, humour and charm. With its whimsical flights of the imagination, eclectic music and joyful dance, Alice in Wonderland is delightful entertainment for all ages.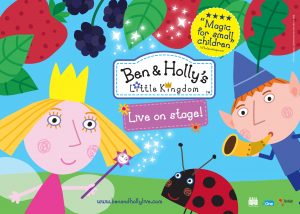 Ben and Holly's Little Kingdom
Wed 3 – Thu 4 May
From the makers of Peppa Pig comes this BAFTA award-winning television animation live on stage! Join Ben and Holly, and their friends on this exciting, enchanting and magical musical adventure packed full of games, song and laughter. This beautiful story of elves, princesses and childhood innocence will delight all the family!
Mister Maker
Sun 28 May
Join CBeebies' Mister Maker in his hit live theatre tour! With a fabulous supporting cast and art at its heart, this fantastic live show encourages Mini Makers and grown-ups to sing, dance and make some noise! There's a big 'make' to take part in, lots of audience participation and… The Shapes! Yes, you'll be able to share the fun with Circle, Square, Rectangle and Triangle too! Mini Makers, get ready to go on a real arty adventure.
Exclusive Competition
 For a chance to win a family ticket for four to Ben and Holly's Little Kingdom,
simply answer the question below:
Ben and Holly's Little Kingdom comes from the creators of which popular children's TV show?
A: Dora the Explorer 
B: Teletubbies 
C: Peppa Pig
 Email your answers along with your name and address to villageview@live.co.uk by Thursday 20th April 2017.