The New Year is kicking off in empowered style ay Aylesbury Waterside Theatre with Fantastically Great Women Who Changed the World (Wed 5 – Sat 8 Jan). From the producer of international smash hit musical Six, this brand new, high energy production is ready to celebrate some of history's incredible wonder women including Frida Kahlo, Rosa Parks, Marie Curie and Emmeline Pankhurst to name a few.
Stunning dance arrives courtesy of Moscow City Ballet and two breath-taking productions, Swan Lake (Mon 10 Jan) and The Nutcracker (Tue 11 Jan). Both are accompanied by a full orchestra. With Kevin Clifton's Burn the Floor (Mon 31 Jan) and Anton and Erin's Showtime (Fri 11 Feb) on the horizon, there's a dance offering to suit every taste.
Gags galore are hurtling into Bucks when multi award-winning Mischief – the team behind BBC's The Comedy Goes Wrong Show, bring their hilarious new comedy Groan Ups (Mon 24 – Sat 29 Jan), direct from the West End.  Answering all the important questions; 'Do we choose who we become?', 'Is the story of our lives already written?', 'Do we ever really grow up?', Groan Ups follows an unruly classroom of six-year-olds on their journey through anarchic high school teenagers to the challenges of adulthood. This show is suitable for mini grown ups too, aged 12+.
Check online at atgtickets.com/aylesbury for a full list of forthcoming events and book your tickets online or by calling 0844 871 7615 (fees apply. Calls charged at 7p per minute).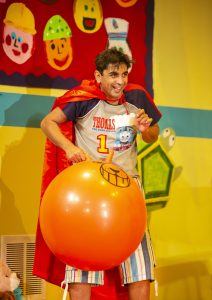 Competition Time
May 2022 be full of MAGIC!
Magic Goes Wrong (Mon 21 – Sat 26 Feb) is ready to raise the bar on daredevil stunts and jaw-dropping feats, not least because it's created with magic legends Penn & Teller!
For your chance to win 2x tickets to Magic Goes Wrong at Aylesbury Waterside Theatre on Mon 21 Feb at 7.30pm, simply tell us what type of creature is traditionally pulled out of a magician's hat:
Badger
Fox
Otter
Rabbit
Email  Coralie at salesprv@live.co.uk by Friday 11th February 2022.