Auditions for Witness for the Prosecution by Agatha Christie directed by Pat Shepherd on Wednesday 9th January 2019
Leonard Vole stands accused of murdering a rich widow. The stakes are high with shocking witness testimony, impassioned outbursts from the dock and a young man's fight to escape the hangman's noose. Generally regarded as one of Christie's most accomplished plays., this suspenseful thriller keeps audiences guessing until the very end.
The play is set in the 1950's and the cast is 4 Women and up to 14 men of all ages.
Interested, then please contact the director Pat Shepherd at Pat.shepherd@thameplayers.co.uk or simply turn up at 7.45pm at The Players Theatre, Nelson St, Thame OX9 2DP on 9th January. Performances will be 7th 11th May 2019.
BLACK FROG STUDIOS PRESENT… Friday 18th and Friday 25th January at 7pm each evening
Black Frog Studios near Thame, in association with Thame Music Academy and Thame Institute of Music are holding two fantastic nights of music from local groups and artistes. The first 'gig' will be on Friday 18th January starting at 7pm – please note the time as its earlier than our usual start time.  On the bill for this show will be Andy Robbins, Francesca Luker and Thame Music Academy.
The second 'gig' will be on the following Friday – 25th January, again starting at 7pm.  On this bill will be the group A Little Bit Country, Jae and Thame Institute of Music.
FAGIN? on Saturday 26th January at 7.45pm
 Who was Fagin? Was he the Fagin in Dickens' Oliver Twist? Was he the Fagin in Oliver! the musical? Was he based on a real-life character? Join Fagin as he reviews his situation during his final night in prison before being hanged. As madness envelops him he is 'visited' by some old acquaintances. Find out who he really was and how he ended up as one of the best known, yet unknown, of Dickens' characters. Think you know Fagin? Think again.
SIMON AND GARFUNKEL by BOOKENDS Friday 1st Feb at 7.45pm
Bookends is one of the most popular duos to visit The Players Theatre and perform the most authentic sounding tribute to the unforgettable music of Simon & Garfunkel. Made up of Dan Haynes & Pete Richards, Bookends have toured extensively with their concerts being described as 'simply breathtaking'.
COMEDY @ THE PLAYERS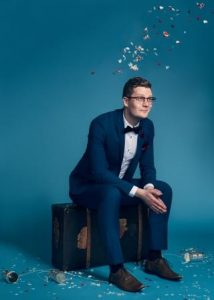 Best of the Fringe Double Bill with Robin Morgan & Tom Houghton
Sunday 3rd February 7:45pm
Tickets £12
Robin Morgan: Honeymoon
He's just got married so why is he on tour? Tom Houghton: The Honourable
Tom's just been made 'The Honourable'. Not by his own merit but the traditional aristocratic way, by default.
REBECCA POOLE on 9th February at 7.45pm
Rebecca Poole returns to The Players Theatre singing Peggy Lee, Nina Simone and the great American songbook. Expect a sublime selection of Classic jazz, Latin and Mainstream modern jazz standards plus Rebecca's own beautifully crafted romantic ballads offering a seductive hint of the 'Femme Fatale'.
Tickets for all shows available from Spear Travels on 01844217228 or online at www.thameplayers.co.uk
Exclusive Competition
For a chance to win two tickets to any Thame Players production in 2019, simply answer the following question correctly:
Who has just got married?
A) Leonard Vole?
B) Robin Morgan?
c) Rebecca Poole?
Email your answer along with your name and address to Steph at villageview@live.co.uk by Thursday 23rd January 2019