The Wee Bookshop and Café is part of the Charity Fight Bladder Cancer and 100% of the profits go directly to the charity to continue our work. It is a magical place full of great books, both new and pre-loved.  We sell wonderful homemade cakes and food and fabulous hot and cold drinks.  Open 7 days a week serving breakfast, lunch and afternoon tea.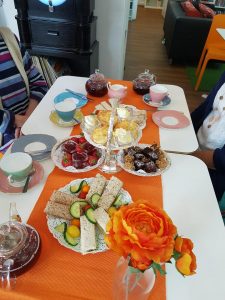 We would love you to come and experience the warm welcome and delicious food and drink we sell; so we are offering 2 lucky readers the chance to win an afternoon cream tea with us. In order to have a chance of winning please answer the following question: –
Which Charity do we support and how much of our profits go towards the charity?
Email your answers to Coralie at salesprv@live.co.uk by Friday 15th December.
36 Station Rd, Chinnor OX39 4QH       01844 351621