Christmas Lights Switch On Princes Risborough
La Voix Set to Light Up the Town –Twankey style!
 Princes Risborough is getting ready to enjoy a festive evening with their annual lights switch on planned for Friday 2nd December and meet Father Christmas.
Aylesbury Waterside Theatre's Larger-than- life dame, Widow Twankey (played by the glamorous La Voix – who you may be familiar with from Britain's Got Talent ), is being set free from the world of panto and is taking to the Princes Risborough stage to turn on this year's Christmas lights (oh yes she is!)

La Voix said 'I simply cannot wait to meet all the darlings of Risborough! I intend to set off Christmas in style with more glamour, class and sophistication than you can shake a brussell sprout at! Panto magic is going to take over the town, and as it's Christmas I may even indulge the Christmassy bunch to a sassy song or two!
 Starting from 5.30pm in the High Street, music and fun for all so make sure you arrive early and get your place to see the lady who puts the 'o!' in Panto!
If you can't make the event be sure to pop along to Old Peking this Christmas to see her in all her glory in Aladdin alongside Michelle Collins, Andy Collins and Towi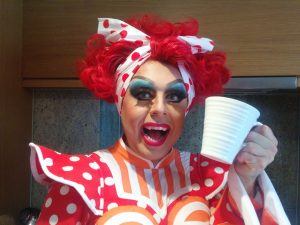 e's stunning Jasmin Walia from
Fri 9 – Sat 31 Dec.
Free Parking dates for 2016: Saturday 10th, 17th & 24th December in Council owned car parks (Horns Lane & The Mount)          www.princesrisborough.com