This month's books are all about relationships, from first loves and families to fleeting friendships.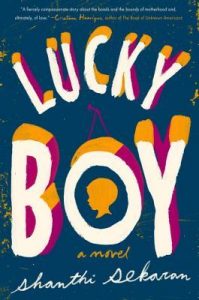 Lucky Boy – Shanthi Sekaran
Mexican Solimar risks everything to start a new life in America, but as an illegal immigrant she has few rights. When she's thrown into a detention centre, her son is placed in foster care. Kavya is an American-Indian chef desperate for a child. When she's given Solimar's toddler to care for it seems like a dream come true. One boy – two mothers, both of whom will do everything in their power in order to keep him. An emotional rollercoaster of a read, this looks set to become one of this year's bestsellers.
The Lonely Hearts Hotel – Heather O'Neill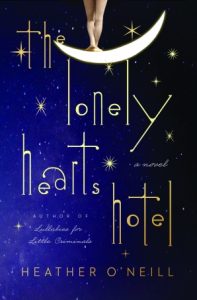 Pierrot and Rose grow up together in a Montreal orphanage. They bond over a shared love of entertaining people, but go their separate ways as teenagers. Reunited years later, they set out to realise their childhood dream of running their own stage show. Their path isn't an easy one, however. They both have demons to face, and Rose's wants her dead. A highly entertaining read, with beautiful, lyrical prose and characters you'll be rooting for from the beginning.
My Sweet Revenge – Jane Fallon
When Paula finds out her husband is having an affair, she decides to win him back – so that she can be the one who breaks the marriage up. She befriends his mistress, Saskia, and sets out on a mission to lose weight, get fit and become the woman he wants. Paula recruits Saskia's husband, Josh, to help and together they set out to make the cheaters' lives a misery. An easy read that's perfect for lazy sunny afternoons.
A Big Dose of Lucky (Secrets) – Marthe Jocelyn
When the Canadian orphanage they live in burns down in 1964, seven teenage girls set out to discover the secrets of their pasts. Seven authors have each chosen one girl's story to write. The result is the Secrets series. In A Big Dose of Lucky, Malou heads to a small town in Ontario, hoping to find her birth parents. Malou is mixed race, shy and desperate to fit in. The truth of her birth may give her the family she craves, even if it's not the one she imagined. An enjoyable read that will leave you eager to read the rest of the series.
A Gentleman in Moscow – Amor Towles 
The gentleman of the title is Count Alexander Rostov. Following the Russian Revolution, the Count is sentenced to house (or in this case, hotel) arrest, indefinitely. Given work as a waiter in the hotel restaurant, he forges close friendships with some of the other inhabitants. While his view is mainly confined to what he can see out of his tiny window, Rostov is able to observe and ruminate on a tumultuous Russia over the course of four decades. You'll savour every word.
See You in the Cosmos – Jack Cheng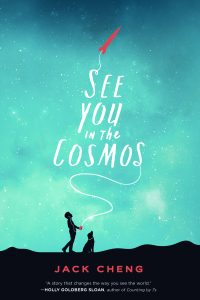 11 year old Alex loves everything to do with space. So he builds a rocket and sets off for a rocket festival in Mexico. His plan is to launch his rocket into space, attached to an iPod on which Alex is recording his thoughts and feelings about his family and the people he meets on his journey. While it's been catalogued as a children's book, See You in the Cosmos definitely has crossover appeal. Fresh, imaginative and full of energy, this is perfect for fans of The Curious Incident of the Dog in the Night-Time.