With Christmas and the New Year now a memory, the days are beginning to lengthen and slowly but surely, Spring approaches.
The garden, at the moment, may be out of bounds due to the rain or frost, so this is time for planning and preparing.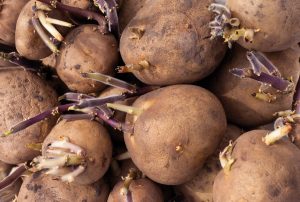 If the weather is against you, there's nothing to stop you getting your greenhouse ready for the forthcoming gardening season.
Make a nice cup of tea, pop the radio on and get to grips with your potting bench, hand tools and pots. Give everything a good clean with some diluted Jeyes fluid, making sure all your equipment and glass are spotlessly clean will prevent any nasty diseases taking a hold later in the year. Empty out that seed box and take a look at your seed packets. It's not always necessary to buy new seed every year as most packs will be fresh enough to sew for at least a couple of seasons – but there is a limit. I wouldn't be at all surprised if you found seeds dating back many years. Whilst it is thrifty to use your old seed, I've found that it can be a mistake. You can waste compost and more importantly time as you will not get any germination and have to start the whole process again.
The early new year is just the time to plan any planting schemes you have in mind for this year. Draw up a plan of your garden and do some research on what plants you intend to use. Spend time thinking about what you want in your garden, the height, hardiness, soil suitability, evergreen or deciduous, possible fragrance etc.
Planning your new bed is exciting, and it can save you a great deal of money. You may well visit a garden centre and be tempted by an azalea in flower or a rhododendron in bud, but planting them in your garden around here would be a big mistake. These plants, and some others, are lime haters – they need an acid soil to flourish. Our gardens have a high PH, meaning it is alkaline, so the aforementioned plants would struggle at the very least, or more likely die.
Don't worry, there are a huge number of plants that will thrive in our soil – take a look online, or if you're still in doubt drop in and one of us will gladly advise you.
One of the first tasks of the year is to think about Seed Potatoes.  We start stocking them at the end of January, but it is far too early to plant them out. There is a vast choice of varieties, so again, do your research. Some are ideal for mashing, some for roasting and so on. If space is limited and you don't have a spare bed, you can easily grow Seed Potatoes in a large container. The benefit of growing them like this is they are easy to harvest, and will be ready to eat earlier than those planted in the garden.
See you soon,
Simon, Alison, Edith the Jack Russell and all at Askett Nurseries.