Chinese New Year falls on Saturday 28 January. In China many people will take a whole week off from work to mark the celebration. It is known as the Spring Festival.
On New Year's Eve, Reunion Dinner is eaten. Many Chinese believe this is the most important meal of the year. It is usually shared by several generations and consists of fish, dumplings, spring rolls, glutinous rice cakes and sweet rice balls.
To mark New Year, red lanterns are hung in the street, red couplets are pasted on doors and images of prosperity displayed. Fireworks are lit and it's believed that the person who launches the first firework of the New Year will have good luck.  Lion and Dragon Dances take place and these are intended to scare away evil, and attract health, wealth and wisdom.
Many New Year activities have links with Chinese legends.
New Year is called Guo Nian which means 'celebrate a New Year' or 'overcome Nian'. Nian was an ancient sea living monster who came onto land on New Year's Eve to eat people and livestock. One year, an old man with white hair and a ruddy complexion managed to scare away the monster by pasting red papers on to doors, burning bamboo which made a loud cracking sound, lighting candles in the houses and wearing red clothes.
Another monster called Sui was said to terrify children whilst they slept. Parents would stay up all night watching and lighting candles to try and keep their children safe. One official's family gave their child eight gold coins to play with. The child wrapped the coins in red paper and then played at unwrapping them and wrapping them back up until he got so tired he fell asleep. The parents put the coins under the child's pillow and legend has it that when Sui came and tried to touch the child, the eight coins omitted such a strong light that it scared the demon away. This is the basis for why elders and those who are married give children and young unmarried people red envelopes with coins in them at New Year. The red envelope is called Yasui Qian which means suppressing Sui money and the purpose is to scare away the monster and bring good luck.
According to Chinese astrology, each year is associated with an animal symbol. There is a 12 year cycle and 2017 is the Year of the Rooster. The China Highlights website says that those born in the Year of the Rooster are observant, hardworking, confident and courageous. They are best matched with those born in the Year of the Ox or Snake.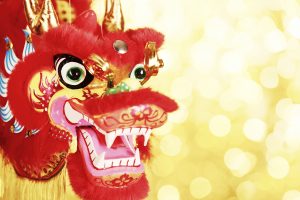 By Susan Brookes-Morris