Tucked inside the Arctic Circle, Lapland's snow-drenched landscapes are the stuff of fairy tales. It doesn't get much more festive than frosted forests, frozen lakes and furry reindeers. So, if you've already got Christmas on your radar, here's why you need to get booking Lapland for your next festive getaway…
Admire the northern lights
One of nature's most amazing phenomenons has to be the Northern Lights. The Nordic countries are a great place to catch them, including Lapland. Of course, seeing the Northern Lights depends on a variety of factors, meaning there's never a guarantee that'll you get to see them. But, if you do manage to catch a glimpse of the colourful sky, you'll no doubt be well and truly fascinated. Being near or above the Arctic Circle vastly increases your chances of seeing this famed natural occurrence, and the optimal time for viewing these celestial fireworks is between October and March.
Experience a real arctic adventure
So, you've never driven a snowmobile or dog sled before? Then you should definitely make the trip to Lapland and learn from the experts in all things arctic. For something a bit more physically challenging, try a cross-country skiing or snow-shoeing excursion.
If you'd rather take a more laid-back approach to your arctic adventure, head off on a cultural tour of the Sámi. The indigenous people of Lapland can offer visitors a deeper insight into their culture, including their folklore and relationship to the reindeer.
There are plenty more animals to discover in Lapland, aside from the usual reindeer and huskies. Make time for a visit to Ranua Wildlife Park where you can see a range of various animals in their natural habitat. You'll find polar bears, brown bears, wolves, deer and lynxes among many other species. There is also an ice bar at the park, which is inside an igloo!
Get into the Christmas spirit
Lapland provides visitors with a true Christmas experience. Above all, that includes meeting Santa Claus! Head to the Santa Claus Village in Rovaniemi for a chance to immerse yourself in a world which looks like something out of a movie. Santa Claus Village doesn't just offer up the opportunity to meet Santa Claus, but you'll also get to see his elves who are busy wrapping presents and sending letters. It truly is a fantastic experience, especially for the little ones!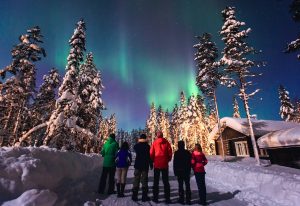 Chill out in an ice or snow hotel
Visiting an arctic destination is already impressive enough. Want even more bragging rights? Spend a night inside a frozen room! It's really not as cold as it sounds. Although ice and snow hotels are kept to around -4°C (25°F) inside, guests are provided with thermal sleeping bags and soft reindeer skins to keep warm and comfortable. And, of course, wearing plenty of layers is a must. After a good night's rest, there's a steaming hot sauna to look forward to in the morning.
Wish to experience the exhilarating winter wonderland that is Lapland? Give our travel experts at Spear Travels Thame a call today on 01844 217228 or email thame@speartravels.net. Don't forget to follow us on Facebook to be the first to receive all of our latest news and offers!