Cilla the Musical, Strangers on a Train and chances to WIN with Aylesbury Waterside Theatre
 The Liverpool sound is coming to Aylesbury for one week only this April with Cilla The Musical Tue 10 – Sat 14 Apr.
Written by BAFTA award-winning Jeff Pope, local lass Kara Lily Hayworth takes up the coveted role of Cilla, and is joined by Andrew Lancel (Coronation Street) playing Brian Epstein and Carl Au as Bobby.
This spectacular and heart-warming musical adaptation of the critically acclaimed hit ITV television series tells the extraordinary story of the ordinary girl from Liverpool whose teenage dreams of stardom lead her to becoming one of Britain's best-loved entertainers of all time. The musical score is the ultimate soundtrack to the 60's including Cilla's greatest hits Anyone Who Had a Heart, Alfie and Something Tells Me, alongside Twist and Shout by the Beatles, California Dreamin by The Mamas and The Papas' and many more.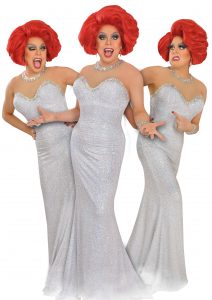 As thrillers continue to grip theatregoers around the country, Patricia Highsmith's 1950's classic spine-tingler is set to be no exception! Strangers On A Train (Mon 19 – Sat 24 Mar) is full of twists and turns in a tale about two men who meet in the dining carriage of a train. Successful businessman Guy Haines questions his wife's fidelity and reveals wanting to divorce to marry his mistress Anne. His new travel companion, playboy Charles Bruno, comes up with a fiendishly inventive idea: he'll kill Guy's wife if Guy agrees to bump off Charles's father, whom he loathes. The perfect double crime!
Hannah Tointon (playing Guy's fiancée Anne), has a theory as to why such stories continue to enthral audiences. "It's that excitement, maybe, that we all crave… as much as we crave things being safe and calm, maybe we also need that spark. Watching it, you're living vicariously through the play." Hannah continues: "I think it's a shame our lives sometimes become grey, where you do the safe thing." She laughs. "Not that I'm advocating committing crimes, but it's interesting how the play explores both sides of us as human beings."
See the seat gripping masterpiece for yourself! Book now by calling 0844 871 7607 (calls 7p per min plus phone company's access charge) or visit atgtickets.com/Aylesbury.
La great competition!
La la la la la! Try something new!
To be entered into a draw to win 2x tickets to see La Voix's One Night only Fri 30 Mar, 7.30pm AND Ellen Kent Opera's La Traviata Fri 4 May, simply email LA LA LA to Coralie at salesprv@live.co.uk by Friday 23rd March