Oh, What a Lovely War
Joan Littlewood's Musical Entertainment
Tuesday 11th to Saturday 15th September 2018 at 7.45pm 
Tickets £9 with £8 concessions
Oh, What a Lovely War was seen as an ironic critique of the reality of the war when it was first performed. A satire on World War I (and by extension against war in general) the title is derived from the music hall song Oh! It's a Lovely War, by J. P. Long and Maurice Scott in 1917.
Comedy Gig
Friday 28th
September 7.45pm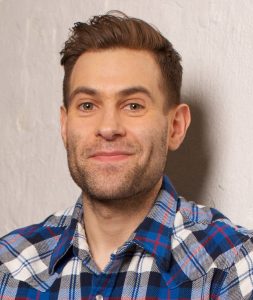 Tickets £10
SIMON BRODKIN IS NOT LEE NELSON
(Work in Progress)
An unmissable chance to see irrepressible prankster and acclaimed character comedian Simon Brodkin as he steps out from behind his Lee Nelson persona to perform an hour of fantastic stand-up as himself. As a special treat for Thame he's agreed to an exclusive after show audience Q&A about his crazy exploits including last year's infamous P45 to Theresa May!
Andante Live Presents Blowin' In The Wind
Friday 5th October at 7.45pm
Tickets £12
Andante Live presents 'Blowin' in the Wind'. Combining the vocal harmonies of Vee Sweeney and Mark Rowson, 16 instruments between them and outstanding musicianship, they perform an uplifting and inspiring show to give you a fabulous evening of unforgettable music.
Patrick Collins For Amnesty International
Sunday 7th October at 8pm
Tickets and details on our website in August.
Boodlum Band – 2018
'Share The Misery' Tour!
Friday 12th October at 7.45pm
Tickets £17
Art-rockers The Boodlum Band return to The Players Theatre with their unique mix of comedy and musical chaos, featuring a playlist that includes rock anthems, old-time songs and pop parodies.
Only Fools And Boycie –
An Evening With John Challis
Sunday 14th October at 7.45pm
Enjoy a very special evening with John Challis, one of the nation's greatest comedy actors, best known as Boycie in BBC1's Only Fools and Horses. In this one-off show the national treasure will reveal secrets from the set with stories and anecdotes from his dazzling career and sign books afterwards.
All shows at The Players Theatre, Nelson St, Thame OX9 2DP. All tickets from Spear Travels on 01844 217228 or online at www.thameplayers.co.uk
Exclusive Competition
For a chance to win four tickets to the fabulous Thame Players Pantomime (this year it's
Beauty and the Beast!), simply answer the question below:
Who is giving us a special treat?
a) John Challis     b) Simon Brodkin     c) Andante Live
Email your answers along with your name and address to Steph at villageview@live.co.uk by Thursday 25th October 2018.