With the start of the noo year I really wants to be a new pup.
Last year I wanted to escape my hoomans garden, eat as many food pebbles as possible and just be a naughty pup. Now with the end of what the hoomans call 'lock down'; basically, an excuse to spend all their time with me, I am going to be the best pup for mummy and daddy EVER. I have started some of my noo years roofsolutions early, and I am super proud of me already.
Firstly, I am making the best of this wet, cold and muddy wefer. It is SO much easier to get my white coat all muddy and stinky with all these huge puddles around. She thinks I do this to annoy her, but what mummy doesn't know, is that the muddyest I can gets, means much more attention for me. When will mummy understand my genius plans?
There was this huge puddle on my walkies yesterday; it was so big, so muddy and so exciting! I started running; mummy was shouting my name, but that didn't stop me, it looked so fun, so I ran and jumped straight in. It was amazing. I rolled and rolled until I wasn't white anymore. Mummy sounded angry and she called me a "bad mucky pup", I don't know why she didn't get in with me.
But I obviously haven't been too much of a bad pup because mummy bought me a noo teddy! He is so squishy and floofy. His name is Karl and I take him with me everwhere. I do get a bit sad sometimes, because if I sqweeze him on his tummy, he crys. I had to try and help him… so when mummy went out, I went to work. I carefully ripped his tummy with my teefs and took out all his floof. I found a squeeker and ripped it up for hurting Karl. Karl seemed a lot happier and didn't cry anymore.
I knew mummy would be mad if she found all this floof on the floor, so I hid Karl in the garden so she wouldn't know it was me. It was an emergency. I still love Karl, but he is a lot lighter and a lot less squishy now.
Maybe one of his noo years roofsolutions was to lose some floof weight?
Until next time Paw Pals,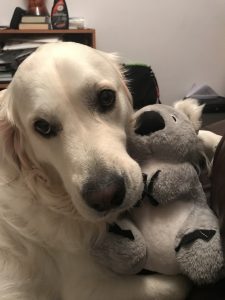 Kenzo xx