This year's event is taking shape, with some old favourites and new surprises in store for the thousands of families and supporters that visit the historic hill in Princes Risborough.
Keep up to date with all the news and be sure to buy your discounted tickets now via the website.
This wonderful mix of garden party, family friendly festival and commemorative hill climb for cars and motorcycles raises funds for local charities and projects with an incredible amount of £870,000 to date!
The Soapbox Challenge will again be run and we're looking for anyone between the ages of 8 and 17 to get creative and build and race their own soapbox.
Our friends from The Repair Barn will be running regular workshops to aid the design and build.  So get a team together with some friends or on your own and see what you can come up with. Details are on the website.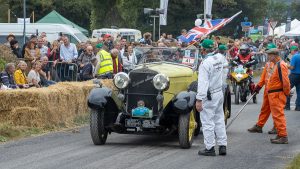 The event could not take place without the people who generously volunteer to help out.  If you think you would like to be a part of this wonderful event then why not volunteer yourself this year by registering via the website.
For full event details please go to www.kophillclimb.org.uk