Garden inspiration from Chelsea
With Chelsea Flower Show making a comeback last month, gardeners were spoilt for choice from the array of beautifully themed outdoor spaces, which no doubt filled them with inspiration to take back to their own gardens this summer.
The biggest garden trends to come from Chelsea and for us to embrace in 2022, include bold and bright planting choices, rewilding, growing your own and gardening in small spaces. These trends lend themselves nicely to two common and very important themes – wellbeing and sustainability.
Rainbow of colour
Now is the time to start experimenting with bolder and more colourful flower and plant choices.
The pandemic sadly impacted on suppliers and imports from Europe, which left gardens with plain and subdued colours rather than a burst of floral rainbow that both we and our flower beds need!
Osteospermum, Dianthus and Alliums are perfect to add this pop of colour, plus they are intensely fragrant and fantastic for attracting bees and other pollinators.
Rewilding
Rewilding is a conservation effort where we take a step back and leave nature to do its thing. It is about making our gardens more wildlife friendly to help them thrive.
Get creative by letting your grass grow and ditch the weeding, sow wildflower seeds, swap your fencing for hedging and make simple bug hotels. By making some of these changes, you'll be producing a more sustainable area and habitats for wildlife.
Growing your own
Growing fruit and vegetable at home is still extremely popular. From its numerous health, sustainability, and economic benefits, who doesn't feel great about eating produce that has been home grown? There's no time like the present to get started!
From fruit and vegetables to fragrant herbs – they are all fantastic additions to your dinner plate and to your summer BBQs!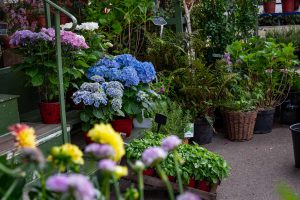 Small space gardening
No matter the size of your garden, you can still be highly innovative to get the best out of it. If you have a small outdoor space or balcony, how about growing plants up the walls using quirky and colourful pots? Or fill a container with an edible garden or bright hydrangeas or geraniums?
What's great about all these trends, is that they are keeping wellbeing and sustainability at their heart. Each trend is not expensive to do, and they are easy to implement. From novice to experienced gardener – any of these are possible.
Happy gardening!