Winter is a time for hearty, warming, stews and casseroles. One of the best is a French Classic, Beef Bourguignon. Here at What's Cooking we use braising steak, smoked streaky bacon and good red wine. Cut the beef into quite large pieces (5cm x 3cm approx.), so that they stand up to the long slow cook.
Beef Bourguignon
Feeds 4-6 people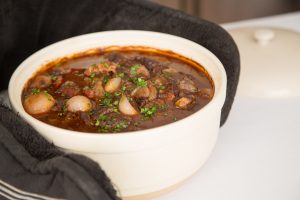 1kg Braising steak
1 x Spanish onion, peeled and diced
5-6 slices smoked streaky bacon, cut into pieces 1cm wide
Half a bottle red wine (preferably from Burgundy)
250ml beef stock
2 x cloves garlic, crushed
A few sprigs of thyme
2 x bay leaves
40gr tomato paste
12 x peeled shallots
18 x small button mushrooms
1 x tablespoon cornflour
Salt & Pepper
Method
In a large saucepan add a little rapeseed oil and gently fry the onions until soft. Meanwhile in a frying pan fry the pieces of beef over a high heat until nicely browned. Add the beef to the onions and then de-glaze the frying pan with the red wine, using a wooden spatula to scrape up any residue from the beef. Add the wine to the beef & onions and then add the stock, thyme, bay leaves, garlic and tomato paste. Add water to just cover the beef and bring to the boil. Reduce the heat and simmer for about 2 hours or until the beef is very tender. In a frying pan, fry the bacon in a little oil until browned and add to the stew. In the same pan add the shallots and lightly brown adding them to the stew together with the button mushrooms. Cook for about 15 minutes. Remove the thyme sprigs and bay leaves. Season with salt and pepper, then slake the cornflour with a little cold water and use this to thicken the sauce to your liking.
Bon appetit!