Pumpkin & Pepper, lion heads, six-years-old
Brothers Pumpkin and Pepper are looking for a new home together as they adore each other's company. Pumpkin is the more confident rabbit but they both rabbits enjoy having a fuss and being picked up. They are used to living outdoors in a spacious hutch so will need the same in their new home. They would also enjoy spending time in a secure garden so they can run, hop and skip.
Smokey, German shepherd husky cross, seven-years-old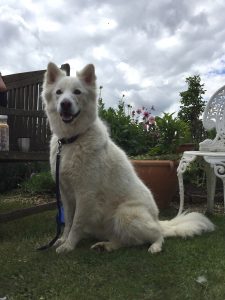 Handsome Smokey is an adorable dog who has a very sweet and gentle nature. He loves human company and countryside walks. His luxurious thick coat will need regular grooming and he will moult so new owners will need to be aware of this. He will benefit from some further training has he's a bright boy who likes to use his brain. Smokey can live with older children but would rather be the only pet in his new home.
To rehome a Blue Cross pet contact 0300 777 1500 or lewknor@bluecross.org.uk