We've all been spending more time in our gardens this year and the chance of a summer holiday abroad is a bit uncertain right now. Here are some ideas of how to turn your garden into a tropical paradise that you won't want to leave!
Plants
Tall Plants – Fatsia banana palms are the perfect choice with their large leaves, adding an instant impact. These exotic plants are ideally suited to our climate, dealing well with damp and below zero conditions as well as hot dry spells.
Hot Colours – Cannas are a great vibrant choice! With their bold leaves, showy flowers and hot shades of red, orange, yellow and pink. Available in a range of heights to create that tropical feel.  They're also very popular with pollinators, so are good if you want to encourage wildlife in your garden. Pretty florals such as Agapanthus also fill the space with colour.
Light Plants – Ornamental grass and grass like plants will help to lend a touch of the tropics to your tropical garden. Low-growing or mid-size grasses are good ground covers. They'll do a great job of smothering weeds while creating an interesting texture for your garden.
Shades of Green – Different shades of green will create that sense of lushness. Light or lime greens can add light to dark areas, while darker shades of green can make hot areas feel cooler. Palms, ferns, ornamental grasses and other leafy delights will add an exotic relaxing vibe to your garden.
Add some water
Bring your garden to life with a soothing water feature, a wildlife pond or a simple bird bath. There are lots of ways to include water in the garden and of course it's also one of the best ways to encourage wildlife.  Almost any body of water, whatever its size, will have some value to wildlife, even if only as a drinking place for birds, while a well-designed and maintained pond can be a haven for all sorts of birds, insects and animals.
Eating Al Fresco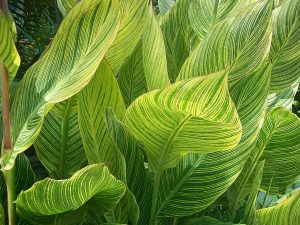 Everyone enjoys cooking and eating outdoors – create a relaxing area with some comfortable seating and shade for all the family. Chimineas, fire pits, relaxing outdoor lighting, decorative pots and parasols will help you create that perfect space to chill out.
Make a Herb Garden with the kids
Herbs are great plants to grow in pots, so if all you have space for is a container garden, these herbs would be a great choice! Sage, Thyme, Rosemary, Basil and Lavender.
Happy Gardening
The Hartwell Team
Hartwell Hidden Gem: check out https://ngs.org.uk/virtual-garden-visits/ to immerse yourself in some beautiful virtual gardens.