Hello, my name is Mungo, I'm about four years old and am a Staffordshire Terrier cross. 
I am an extremely affectionate and loving boy. I enjoy getting a good run about during the day and although I'm stubborn at first, once you get me going on a walk you couldn't have wished for a better walking companion.
I love to hold onto my favourite human's shoulders and give them a good ear lick. No need to clean them yourself, I will do it for you! I also love good belly rubs and observing the day go by from the top of my crate on my cosy bed. I don't like to see my humans leave my kennel without me.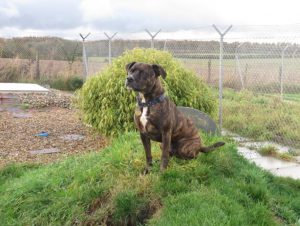 I have been here for 4 months now and would really love a home with an active family who are patient enough to encourage me on my walks. I keep my kennel very neat and tidy and my carers have given me a cosy duvet to wrap up in at night when it's colder. I love humans but unfortunately I don't get on particularly well with cats or other dogs so I wouldn't be able to share my new home with them. I can however live with children from 7 years and up.
If you are interested in offering Mungo or any of our dogs a home, please visit us. We are open every day except Thursdays between 2pm and 4pm for viewing.
01494 482695