This walk starts in the picturesque village of Great Missenden, home of the Roald Dahl Museum. There is a gradual ascent to reach the wooded hilltops to the west of the village from where there are fine views back across the valley of the river Misbourne.
Distance: 2½ miles
(allow 1½ hours)
Start: Great Missenden Station
Refreshments: There are several pubs and a tea room in the village.
For access information and a printable map, go to www.chilternsaonb.org  (Search for the Walk name)
Route: From the front of the station turn left to Station Approach and walk downhill past shops to turn right into the High Street. Follow the High Street, past the Roald Dahl museum on your left until, having left the shops behind and almost opposite Missenden Abbey, you see a road on your right (Whitefield Lane) signposted 'The Misbourne'.
 1. Turn right through a small housing estate and, ignoring side roads, go through the tunnel under the railway, and then past the junction with Trafford Road on your right.
2. Continue uphill along a lane, signposted as a bridleway, ignoring the footpath on your left. Look out for Gipsy House on your right, formerly the home of Roald Dahl.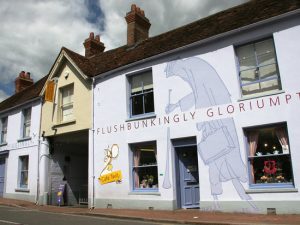 After half a mile, at the top of the hill where the road ends, bear left to go past Angling Spring Farm. Soon the path curves right and shortly after enters woodland.
At the second, at the point where the bridleway swings sharply left, go through a gate on your right.
3. Follow the path through the wood. When you emerge from the wood turn right at the path junction alongside the edge of the wood for a short distance, then turn left to follow the path alongside a hedge and through more kissing gates across fields, until you reach a road at Prestwood.
4. Turn right along this road for a short way, taking care as you follow the bend, until you reach a cross roads where you turn right to go down the drive to Andlows Farm, signposted Chiltern Heritage Trail.
5. Continue past the farm buildings on your right, and into Angling Spring Wood. At a junction of paths.
6. bear sharp right uphill, ignoring the path straight ahead of you. When you arrive at Angling Spring Farm go down the lane which takes you back into Great Missenden Village.
The Great Missenden  and Angling Spring Wood stile-free walk is one of a series produced by the Chilterns Conservation Board. You can download this and an accompanying childrens' quiz from  www.chilternsaonb.org
 Autumn Chilterns Walking Festival from 16th September to 1st October. There is an exciting programme of 60+  walks and events. See  www.visitchilterns.co.uk/walkingfest for more information.