LOCAL POET HELPS RAISE FUNDS FOR LOCAL CHARITY
When you need to write a special greeting in a card or perhaps make a speech at a family occasion it is extremely important that you say something that is both memorable and distinctive. Sometimes the standard run-of-the-mill salutations are too trite and formulaic.
So why not get someone to write something bespoke and unique – that perhaps will be remembered and cherished for some time?
"I first started to write poems in birthday cards that we sent to our six grandchildren," said Monks Risborough resident, Jeff Galatin. "Not only did they get a carefully selected card, but also a handwritten greeting that was very personal to them – with a touch of humour and a big pinch of love!"
Over the years the number of recipients of these poems have grown, first with his own children's cards and then his first challenge, the 'Father of the Bride' speech at his daughter, Polly's wedding. "I didn't want to make the usual boring speech so I wrote a poem. It was emotional both writing it and saying it on the day, but everyone seemed to like it. So, I've kept on writing poems!" said Jeff.
He has just written one for his 13 year old granddaughter to perform at an afternoon event for senior citizens on the theme 'Young and Old', which definitely made an impression on the audience. And also one for his 11 year old granddaughter who has just had a brace fitted on her teeth!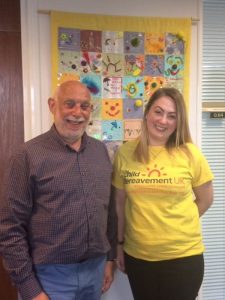 Jeff will take a brief from a client and write a poem that promises to deliver everything that is wanted to give the right message. "My fees are not expensive as I take a very responsible view of what the words should relay" said Jeff.
And, as an added bonus, Jeff will give 25 percent of his fee to a local charity – Child Bereavement U.K. – who are based in Saunderton. They offer support to families and educate professionals when a baby or child of any age dies or is dying, or when a child is facing bereavement.
"We are so grateful to Jeff for choosing to support Child Bereavement UK through his exciting new venture, Poetry Emotion. As a charity which supports families at a local and national level, we rely on the generosity of the local community, and love to hear new and interesting ways in which to fundraise. We wish Jeff every success, and through his generosity we will be able to help families to rebuild their lives after the devastation of child bereavement,"said Ruth Sanger, Senior Fundraising & Communications Officer (www.childbereavementuk.org).
So birthdays, christenings, engagements, weddings, anniversaries, eulogies, epitaphs, graduations, sporting achievements, new jobs, presentations, retirement etc. are all occasions for which Jeff could write an apt and suitable poem. He has called his venture 'Poetry Emotion' and can be contacted on galatin@live.co.uk
Being stuck for words can be a bind.
If the right ones don't come to mind
Anniversary, Thank You, Wedding or Birthdayl
You need to find what's best to say
On a card or making a toast
Especially if you are the host
Express your feelings with new flair
Just to show how much you care
A life remembered – so much to recall
Loving sentiments on ears to fall
That soften the tone of solemn silence
And lighten hearts from tearful absence
Memories, thanks and congratulations
Messages for all celebrations
Words that reach out with the deftest touch 
So use the ones that mean so much