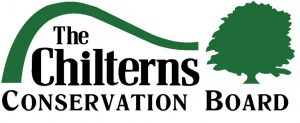 Walk Length: 7 mile circular walk
Starting Point: Princes Risborough Library, Bell St, Princes Risborough HP27 0AA
A 7 mile circular walk following sections of The Ridgeway National Trail and the Chiltern Way, through best of Chilterns scenery including wooded hills and nature reserves. You will pass some great rural pubs, a windmill and some far-reaching views.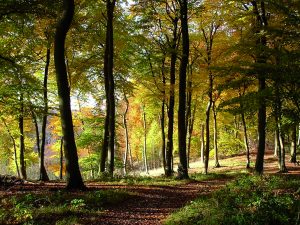 The walk starts gently along the Ridgeway National Trail, an ancient path widely recognized as England's oldest road, dating back to the Neolithic Age. The route then leaves the Ridgeway and climbs up to Loosley Row, home to the Lacey Green Windmill, England's oldest remaining 'smock' mill, so called due to its resemblance to an old fashioned farmer's smock. The 17th century windmill was restored to working by The Chiltern Society and is open to the public at certain times. You can refuel at the Whip Inn, perched next to the Windmill or a little further on at the historic Pink & Lily pub, frequented by the famous First World War poet Rupert Brooke. From here on the route takes you through spectacular beech woodlands until you come out on open downland at Whiteleaf Hill. : The chalk hill-figure of Whiteleaf Cross has dominated the local landscape for several centuries. Its full history is unknown but is thought to have been constructed by the Saxon king Edward the Elder to commemorate a battle. The Bronze Age burial mounds date back to c3500-2500 BC. There are several WWI practice trenches at the southern end of the site adjacent to The Ridgeway.
From Whiteleaf Hill you can enjoy panoramic views over the Aylesbury Vale, before dropping back down to Princes Risborough.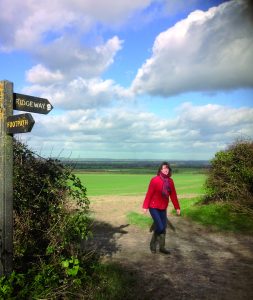 Refreshments: There are two pubs along the route, the Whip Inn (Lacey Green) and the Pink & Lily pub (Parslow's Hillock) which make excellent stops-off. Alternatively there are pubs and cafes in Princes Risborough.
A moderate walk on easy but sometimes muddy tracks and along quiet lanes. One easy climb.
These circular walks are part of the Chilterns Country series of walking routes produced by the Chilterns Conservation Board. You can download a free leaflet for it which has a route map and detailed route directions, plus lots of other useful information. Download it from http://www.chilternsaonb.org/products/downloads.html It's also part of the free Handheld Tours app.