The Role of the Royal British Legion
The Royal British Legion's role remains as contemporary and as vital as it has ever been supporting today's generation of Armed Forces families and veterans, whether living with an injury or illness, coping with bereavement or finding employment. However, the Legion does so much more, including funding research into blast injury studies, providing holidays at Legion owned seaside centres around the UK, delivering specialist dementia support, funding theatre recovery projects and working with partner charities in our Pop-In Centres.
The money raised through the Poppy Appeal goes directly to The Royal British Legion's work, providing through life support to anyone who is currently serving in the British Armed Forces, who has previously served, and their families. This vital work is entirely dependent on the public's generous support – so please wear your poppy with pride, knowing that you are helping the Armed Forces community to live on.
Services & Support
Personnel Recovery Centres are assisting wounded, injured and sick Service personnel to recover and either return to duty or move successfully into civilian life. The initiative is delivered in partnership with The Royal British Legion and Help for Heroes, with support from other Service charities and organisations.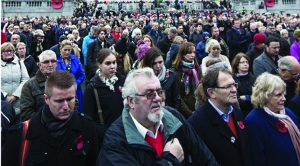 The Legion is helping beneficiaries live independently and with dignity, whether that is in their own home or in one of the charity's care homes. It's working with Dementia UK to provide Admiral nurses, a service that supports the carers of its beneficiaries who have dementia, whilst the charity also has six care homes to provide short and long-term care for serving and ex-Service people and their dependents, and its 'Poppy Calls' handy man service is providing a dedicated and trusted team trained to carry out small home repairs.
The charity is helping Service leavers find employment and also provides advice and guidance to partners and dependents of serving personnel. It also provides specialist compensation advice, help with debt and emergency situations and support to beneficiaries through grants and loans, helping to ease the burden of financial pressure for thousands of Service and ex-Service people every year.
A welcome break – the charity offers holidays to those that need it most, whether it's because they haven't had a holiday in years, have been struggling with a recent bereavement, or are juggling family and Armed Forces commitments. With four permanent locations around the UK where members of the Armed Forces community take a break, they provide a relaxing environment where everything is taken care of.
If you would like to learn more about The Royal British Legion, take part in one of their fundraising events or volunteer visit www.royalbritishlegion.org.uk or if you need help, call their Contact Centre helpline on 0808 802 8080.