Here we are enjoying the long days of summer, albeit not always predictable weather. 
Time to start thinking about an Autumn/Winter break!  Looking for something a little different?  We are featuring Scandinavia and all it represents – great hospitality, great food and so much more.
Choose Sweden – great city breaks to Stockholm and Gothenburg.  Stockholm is widely considered one of the most romantic cities in Europe.  Out of the city you can find an archipelago of 30,000 islands and skerries and the stunning countryside.  Gothenburg in the west is a cosmopolitan city with over 10,000 islands, pretty villages, vast forests and beautiful lakes.  We must not forget that in the winter, Lapland is the perfect family destination to meet Father Christmas and is so popular that it is recommended to book early.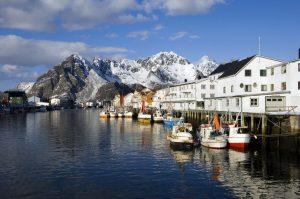 Norway – stretching from the North Sea coastline to the borders of Finland and Russia, this delightful country is largely unexplored.  The Northern Lights (Aurora Borealis) make this a perfect place to visit for a unique experience. They are generally visible between November and March, although this can never be guaranteed.  Ask Spear Travels for details of the various options to experience the Northern Lights, from an evening excursion to a longer stay.
Visit the city of Oslo – known as one of the most liveable cities.  Take your breath away with a trip to the magnificent Fjords and Trondelag.  Travelling as part of a group or taking a short cruise is the perfect way to experience this region – remember it will be slightly cooler here.
Denmark – the smallest and southernmost country of Scandinavia.  With its rich Viking heritage, endless countryside, glorious sandy beaches…. not something you would perhaps expect;   the vibrant capital city of Copenhagen, provides a great short break destination.   Surrounded by a myriad of lakes, canals and waterways, the heart of the city is jam-packed with medieval buildings, colourful harbours, narrow cobbled streets and The Royal Palace.
Places to stay – there is something to suit every budget.  Simple hotel rooms to more luxurious abodes with spa facilities. How about more traditional accommodation in the form of cabins and lodges overlooking stunning scenery?  There are generally good reductions for children aged 2-12 years.  It would be remiss not to mention the remarkable and unusual Ice Hotel in Sweden – this hotel is spectacularly re-built every winter from fresh ice.
How to get there – direct flights from London, with some regional options.  Generally transfers are included to and from your hotel.   For cruises, there are a multitude of options – more details are available at Spear Travels.
Weather – Average temperatures in Sweden vary from 12 degrees in September to 0 in December, Norway from 13 degrees to -2 and Denmark 13 degrees to 2.
What to wear – In Autumn the weather is similar to that of the UK but as you move into winter, layers of clothes are recommended as temperatures do drop substantially.
For more information and details of all the holidays available contact Spear Travels in Thame, your local independent award winning travel agent, on 01844 217228 or email thame@speartravels.net