Iceland is the ultimate winter holiday; imagine volcanic landscapes, thermal lagoons, geysers erupting and of course, the spectacular Northern Lights. It's home to some of the clearest and brightest of skies too – so although chilly, the days will be fresh, making the scenery even more incredible. The destination offers something completely different to the norm! So, if you're in search of a unique getaway, Iceland could be the destination for you – take a look below for what's not to be missed!
REYKJAVIK
No visit to Iceland would be complete without exploring the world's most northerly capital city. The perfect base for any Iceland trip, most day tours operate from Reykjavik, taking you out to rural parts of the island. But don't be fooled – Iceland's capital also offers incredible sights, a friendly culture and a cosmopolitan charm, so be sure to make time to explore it.
THE LAND OF FIRE AND ICE
Iceland's not short of a natural wonder or two. Hot springs, mountains, glaciers, volcanoes, geysers, lava fields… you name it, Iceland's got it. When we say it's not something you see every day, we really mean it – the sights are so picturesque, it's no wonder it's fast becoming one of Europe's most popular short break destinations. Visit in the winter months, (particularly between December and March) and the odds will be in your favour for seeing the sight everyone dreams of, the Northern Lights!
WATERFALLS AND BLUE LAGOONS
Seljalandsfoss in Iceland's south is one of the very best waterfalls you'll find here. Pay it a visit and you'll have the chance to walk behind the falls on a track that circles the pool below, pretty cool eh? And oh my, the blue lagoons. You can't get more zen than bathing in a hot spring surrounded by snow… in the middle of nowhere! There are five to try in Iceland, all as worthy as the next – so make sure you try one when you visit!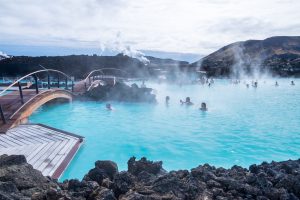 WHALES AND PUFFINS
The adorable puffins are only a short hop away from Reykjavik's Old Harbour, so there's every opportunity to spot them – and there's plenty of them too. In fact, Iceland is home to over 60% of the world's Atlantic puffin population! There's plenty of opportunities to go whale watching too – there are more than 20 different species of cetacean that swim their waters, in particular on the west and northerly side of the island.
A destination for all seasons, Iceland's got scenery, culture and nature that will amaze like nowhere else in the world – and what's even better, it's on our doorstep.
Give our travel experts at Spear Travels Thame a call today on 01844 217228 or email thame@speartravels.net. Don't forget to follow us on Facebook to be the first to receive all of our latest news and offers!