It's 1939. Europe teeters on the brink of war. Ten strangers are invited to Soldier Island, an isolated rock near the Devon coast, as the weather turns for the worse.
They include a reckless playboy, a troubled Harley Street doctor, a formidable judge, an uncouth detective, an unscrupulous mercenary, a God-fearing spinster, two restless servants, a highly decorated general and an anxious secretary.
Cut off from the mainland, and with their hosts mysteriously absent, they are each accused of a terrible crime. All that they have in common is a wicked past they're unwilling to reveal and a secret that will seal their fate.
When one of the party dies suddenly, they realise they may be harbouring a murderer among their number. The tension escalates as the survivors realise the killer is not only among them but is preparing to strike again… and again.  One by one they are picked off. Who will survive? And who is the killer?
And Then There Were None is the bestselling crime novel of all time and one of Agatha Christie's most famous thrillers. In 2015 it was voted the World's Favourite Christie in a global vote to mark her 125th anniversary.
You are guaranteed a nail-biting, edge-of-seat experience!  Agatha Christie productions usually sell out, so don't delay and get your tickets now.
Presented by arrangement with Concord Theatricals Ltd on behalf of Samuel French Ltd
There will be 5 performances of And Then There Were None, from Tuesday 8th to Saturday 12th March at 7.45 pm.
Tickets are £10 (£9 concessions) from Thame Town Hall Information Centre (check website for opening times) or from thameplayers.co.uk.
New members are always welcome, email membership@thameplayers.co.uk for details.
Follow us on Twitter.com/thametheatre, Facebook.com/thametheatre and Instagram.com/thameplayers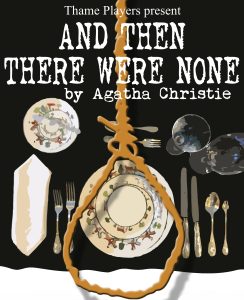 Exclusive Competition
For a chance to win complimentary tickets for a family of four to any Thame Players' production, answer the following question:
How many of the strangers are accused of a terrible crime?
Email your answer, along with your name and address, to Coralie at salesprv@live.co.uk by Friday 11th February.