The enduring popularity of the Caledonian Sleeper.
Next year marks the 150th anniversary of the commencement of one of the most enduring pieces of British railway history – the Caledonian Sleeper.
In many ways, it's the simplest of concepts – the vanquishing of a long, arduous and winding train journey with the simple use of sleep! After all, why endure up to 12 hours of unrelenting travel on a train when you can close your eyes, waking up to the bright, breath taking wonder of the Highlands in the early morning.
It was the Victorians who first struck on the concept. In February 1873, the North British Railway unveiled the first ever sleeping car. A single carriage, it was attached to the King's Cross to Glasgow service which headed north up the East Coast Mainline.
Six months later, the rival Caledonian Railway pegged three cars to its nightly mail service train, and so was born a transport legacy that exists to this day.
Currently, two Mark 5 fleet trains are operated on each day of the week, with the exception of Saturday night/Sunday morning. The Highland Sleeper ventures to Aberdeen, Inverness and Fort William, while the Lowland Sleeper terminates at either Edinburgh Waverley or Glasgow Central.
Trains leave London Euston at 9.15pm. Speed is usually between 80mph to 100mph and, depending on destination – there are actually 46 stations along the route – they will offer the best part of a full night's sleep by arriving early morning. The furthest possible route is London to Fort William, with arrival in the Highlands at 9.57am.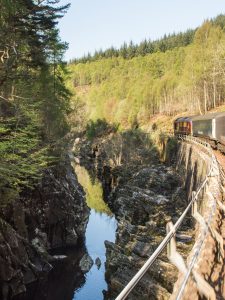 The Sleeper experience these days is taken to be a semi-luxurious affair. Lounges exist at many stations along the route, for those picking it up midway rather than beginning their adventure in London; and accommodation includes double beds, breakfast, en-suite facilities, WiFi and everything else you would expect from an overnight stay. Prices are around £400 for a premium room in single occupancy, £225 for club, and £200 for classic, with reclining seats (no room facilities) starting at around £80.
Around 300,000 passengers per year catch the train, and let's not dwell too long on the fact the Serco-run service loses money almost every year.
The reason it is kept going is to offer those who choose to travel a unique feeling of stepping back in time, of travelling through the night. There is something captivating about retracing the steps of those rail fanatics of the past; of traversing routes that have shaped themselves and their surroundings across multiple decades, while the faithful Caledonian Sleeper rumbles on. And of course, the majesty that confronts many when they wake up hundreds of miles from home is another reason why this experience is truly one to cherish.