Summary                     
This undulating stile free walk explores the Chilterns countryside around the south Oxfordshire village of Binfield Heath. There is plenty of flora and fauna to catch the eye.
Length:                         5.5 miles
Start & finish:               Binfield Heath Post Office & Stores, Binfield Heath, Henley on Thames RG9 4DU
Access Information:     Easy walking on good paths and country lanes
Food & drink:               The Post Office & Stores and The Bottle & Glass Inn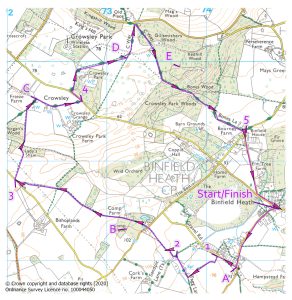 Route
Walk along Dunsden Way (signposted to Playhatch) for 1/2 mile to a chapel and turn right into Gravel Road. After about 200 yards, take the footpath on the left.
Follow the waymarked path along the field edge, switching fields through the tree belt, and continue on to join Tagg Lane. Turn right up the track past Spring Cottage to a path on the right just beyond the bend.
Take the path across a small wooden footbridge. Continue over the field and cross Kiln Road into Comp Wood. Stay straight ahead on the track through the wood and along the field edge to a fork. Go left under the overhead cables to emerge on the lane at Bishoplands Cottages.
Turn right along the lane and look for a gap in the hedge after about 100 yards, signposted to Crowsley. Cross the field and descend into the shady wood of Lady's Shaw. The path then rises alongside Morgan's Wood, nipping through the hedge and up to join the Chiltern Way at Crowsley. The route will now follow Chiltern Way signs until the Bottle and Glass Inn. At the thatched Frieze Cottage turn right and follow the lane to its junction with Sonning Common Road.
Turn left and then right through the side gate at South Lodge. Just after the main entrance to Crowsley Park House, turn right through a gate. Walk between the green railings, through the next gate into the park and fork left. Continue through a kissing gate and across the open park. Bear left at the path junction and down to another kissing gate.
Go through and turn sharp right, signposted to Binfield Heath. The path, known as Bones Lane, leads up past North Lodge and along the park boundary before dipping down, and then up, through Bones Wood ignoring other paths to left and right. Emerge from the wood, bear right and continue to the Bottle and Glass Inn. Cross the lane and follow Common Lane to its end. Bear left to return the start.
Points of Interest
A – Binfield Heath Chapel built in the 1830's
B – Comp Wood clay pits
C – Historic cottages
D – Crowsley Park, once home to the Baskerville family and with association to Sir Arthur Conan Doyle's Hound of the Baskerville's!
E – Bones Wood being replanted with deciduous trees.