Whether it's a new release or an old classic, fact or fiction, there's always time for a good book.
Vox – Christina Dalcher
In this dystopian tale, women are only allowed to speak 100 words a day. They're also not allowed to read, have a job or, in fact, do very much at all other than look after their husband and children. But Dr Jean McClellan is given the chance to resume her research job and have the word limit lifted for both herself and her daughter, if she collaborates with the government. A real page-turner of a book that will appeal to fans of The Handmaid's Tale and The Power.
Diary of a Somebody – Brian Bilston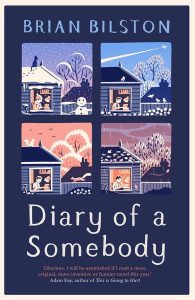 It's difficult to describe this book. It's part poetry, part diary, part love story, part crime novel. Somehow, it all adds up to a very funny take on suburban life. If you struggle to find time to read, this could be the book for you, as it's written as a series of short diary entries – perfect for dipping into each day when you have a few minutes to spare.
Somebody I Used To Know: A Memoir – Wendy Mitchell 
Wendy Mitchell was diagnosed with early-onset dementia at the age of 58. In her memoir, she talks about the reasons she sought a diagnosis, how she came to terms with it and the changes she's made to her life. Somebody I Used To Know gives us an eye-opening insight into an illness that's all too often whispered about behind closed doors. Perhaps surprisingly, the memoir is also brimming with optimism, hope and humour.
Good Omens – Terry Pratchett and Neil Gaiman
The TV series has proven a hit, but it would be criminal to watch it without also reading the book. Crowley is a demon. Aziraphale is an angel. They've been good friends for a few thousand years. When they find out the apocalypse is coming and neither of the sides they represent want to stop it, the duo take it upon themselves to intervene. Hugely original, incredibly funny and, most of all, a truly entertaining story.
There Is No Planet B: A Handbook for the Make or Break Years – Mike Berners-Lee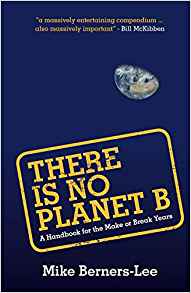 Want to play your part in protecting the planet? This book can help you decide which actions to take to make the most impact. (The answers may surprise you.)Topics range from food, energy and travel to wealth distribution. It's presented in bite-sized chunks and written in plain English.
Tin Can Cook: 75 Simple Store-Cupboard Recipes – Jack Monroe
Simple, wallet-friendly dishes that are delicious and nutritious? It seems too good to be true, but Jack Monroe seems to have succeeded. Her latest book puts canned food at the heart of every dish. Recipes include Rhubarb & Custard Pancakes, Sunshine Soup, Red Lentil and Mandarin Curry, and Creamy Crabby Pasta. Most only contain a handful of ingredients and only take a few minutes to prepare, using ingredients you can pick up from the local shop.