Dream Big! Heroes Who Dared to Be Bold – Sally Morgan
Dream Big! comprises a hundred bite-size biographies, each accompanied by an illustration. My ten-year old and I have both enjoyed learning more about some well-known names (e.g. David Attenborough and Maya Angelou) and discovering other inspirational people neither of us had heard of. As well as being a great read, it's opened up conversations about racism, sexism, LGBTQ+ rights and having the courage to stand up for what's right. Highly recommended.
The Sin Eater – Megan Campisi
14 year old May Owens expects to be sentenced to death for stealing a loaf of bread. But her sentence is much worse. She's to become a Sin Eater – responsible for taking on the sins of others so that their soul is cleansed. The role means she's to be forever shunned. So when she discovers someone is trying to blame dead women for sins they didn't commit, no one will listen. Intriguing setting, believable characters and a great story. Pre-order it now for delivery at the end of July.
The Sleeper and the Spindle – Neil Gaiman and Chris Riddle
This beautifully illustrated book takes the story of Sleeping Beauty and adds a dollop of darkness and a few 'what ifs'. What if the sleeping sickness spread? What if there was a queen with hair as dark as a raven's wing, lips as red as blood and several dwarves by her side, who could set out on a quest to rescue the princess? Yes, The Sleeper and the Spindle is aimed at young adults and takes under an hour to read, but don't let that stop you from adding it to your wish list.
The Great British Sewing Bee: Sustainable Style – Caroline Akselson and Alexandra Bruce
The companion book to the latest series of the popular BBC programme, The Great British Sewing Bee: Sustainable Style invites readers to upcycle and repair existing clothes, and make new ones using sustainable, natural fabrics. There are twenty-seven projects to choose from and plenty of advice for beginners.
Grow Food for Free: The easy, sustainable, zero-cost way to a plentiful harvest – Huw Richards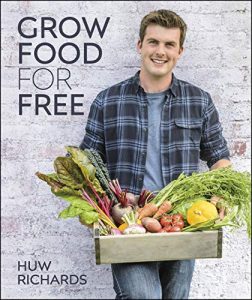 Growing your own fruit and vegetables can be expensive once you've factored in the costs of plants, compost, pots and so on. However, it is possible to grow vegetables on the cheap. This book has plenty of tips on doing just that, from growing new plants using vegetable scraps to ideas for raised beds and containers. There's also step-by-step advice on everything from sowing and transplanting to controlling pests.
Vegan(ish) – Jack Monroe
Whether you're 100% vegan or just want to eat more plant-based meals, Jack Monroe's latest cook book could well become your go-to resource. There are a hundred recipes altogether, from simple soups and sandwiches to more complicated dishes such as Beet Wellington and Ultimate Moussaka. As you'd expect from the queen of budget meals, recipes are carefully costed out so they won't break the bank.