Red kite walks from Studley Green
Walk lengths: circular routes of 4.5, 5.5 and 9.5 miles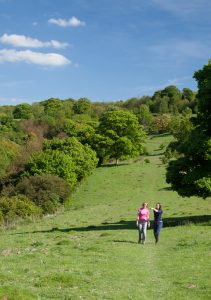 the-johnny-cash-roadshow-chiltern-competition thame-players  red-kite-walks-from-studley-green
Starting point: garden centre in Studley Green, near Stokenchurch
These circular walks from Studley Green are in the heart of red kite country so you should get plenty of views of these stunning birds as you walk through the beautiful Chilterns countryside. There is a choice of walk lengths, depending on how far you want to go and how much time you have. The routes follow waymarked footpaths and bridleways through rolling farmland, ancient beechwoods and local villages like Piddin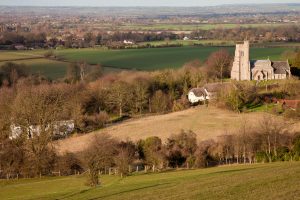 gton and Radnage.
There are plenty of interesting places to see on your walk. Nestled in the lovely, tranquil Radnage Valley is the medieval church of St Mary the Virgin. Inside you can admire some original wall paintings, which were covered with whitewash during the Reformation but were revealed centuries later during restoration work in the 20th century. Near the church are the vines of Daws Hill Vineyard, one of several vineyards which thrive on the chalky Chilterns soil and produce some tasty sparkling and still wines.
Below Studley Green is the crescent shape of ancient Bottom Wood, owned by the Chiltern Society. Wander through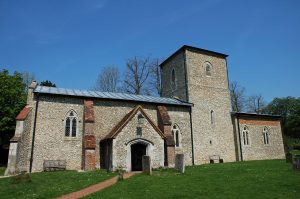 here and enjoy the rich autumn hues in October and November, and carpets of bluebells in the spring. There are several bowl-shaped depressions which are the remains of sawpits, used by foresters of old to cut up tree trunks.
Autumn and winter are a great time to watch the red kites soaring overhead, with the low sun lighting up their fiery russet feathers. Kites were re-introduced over 25 years ago, having become extinct in England by the end of the 19th century. They have thrived in the protected countryside of the Chilterns Area of Outstanding Natural Beauty and there are now over 1,000 breeding pairs. The kites' natural diet is principally carrion, and we encourage people not to put food out for them as this can affect the birds' health and also causes them to congregate in very large numbers.
You'll need stout footwear as some of the paths can be muddy. The 4.5 mile walk has no stiles, kissing gates or steps and only one steep uphill slope for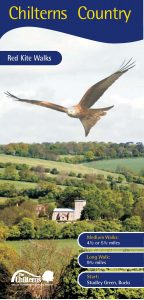 50m. The other two routes have some stiles and several steep uphill slopes.
The Red Kite Walks are part of the Chilterns Country series of walking routes produced by the Chilterns Conservation Board. You can download a free leaflet for it which has a route map and detailed route directions, plus lots of other useful information.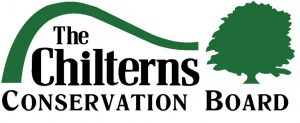 Download it from www.chilternsaonb.org/walk-rides-leaflets-2 It's also part of the free Handheld Tours app.