Emily 1 year, 9 months, tortoiseshell and white shorthair cat
Emily is a sweet cat who needs a loving home with a patient owner who will give her time to settle into her new surroundings. In her previous home, this tortoiseshell and white girl grew up with lots of other cats which meant there wasn't time for her to spend on her own with her owner. This shy girl is looking for a special owner who she can build a bond with.
Clive, 10 years 1 month, shorthair tabby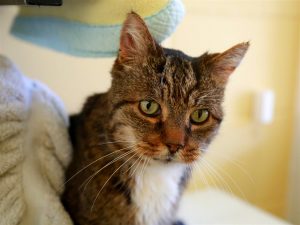 Clive is an older gent who is looking for a home where he can relax, snuggle up to his owner and snooze after a good potter outside in the garden. The short hair tabby would prefer a home where he is the only pet and prefers to have all four paws on the floor – he's not keen on being picked up but does love a fuss and keeping his owner company on the sofa.
If you can give Emily or Clive a loving new home or are looking for a new companion take a look at the Blue Cross website at www.bluecross.org.uk