Turn End Trust launches new Website and Events Programme for 2018
Turn End is a RIBA award winning group of three houses and a garden in the heart of Haddenham, designed by architect Peter Aldington.  It is widely regarded as a fine example of post-war housing design. In November 2017 Historic England listed Turn End's garden at Grade II and added it to the Register of Parks and Gardens of Special Historic Interest in England. At that time Turn End was the only post-war listed house and garden created by the same hand. Turn End Trust runs an events programme which includes education, creative and community led events appealing to architecture, garden design lovers and those who care about good design in the area. It operates a Friends Scheme offering private access to the garden, participation in exclusive Friends events and free or discounted entry to other events and welcomes Volunteers to help run the programme and prepare the garden.
Highlights of this year's programme include a second public screening of the film Turn End in Haddenham Youth and Community Hall, guided walks, house and garden open days with a Sculpture Exhibition and Open Studios, an annual lecture, this year on Rescuing Ruins by Alastair Dick-Cleland of the Landmark Trust and an architectural tour, this year in partnership with Waddesdon Manor for a visit to Flint House and Windmill Hill on the Waddesdon Estate.  Please visit the What's On page (https://www.turnend.org.uk/new-events/) for full details and online bookings at http://turnendtrust.eventbrite.com.  Bookings can also be made by email to: turnendtrustevents@gmail.com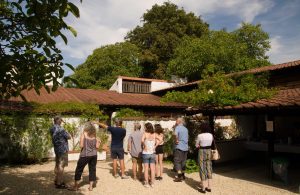 For information about Turn End, its creator Peter Aldington and the Trust set-up to care for it please visit the new interactive, informative and easily navigated website www.turnend.org.uk.  You will be able to find out how to visit, become involved and Shop for booking of events, membership to the Friends Scheme and books by Peter Aldington.  The site will be updated frequently with new events.  The Trust are sincerely grateful to Aylesbury Vale Community Chest who awarded a a grant towards the development of the website which links to the Trust's social media and online booking sites. 
To find out more about any Turn End, the events programme, Friends Scheme or Volunteer appeal:
www.turnend.org.com 
turnendtrustevents@gmail.com
07591 018601
You can follow Turn End at Facebook.com/TurnEndTrust or instagram.com/turn_end_trust.