I am a fun character with a mind of my own. I've settled into life at SDR very quickly and I already know the routine – especially when it comes to dinner time!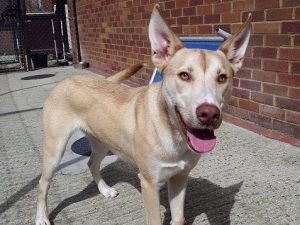 I'm a young boy who has had no training or socialisation so I am looking for experienced owners (preferably owners that have experience with dogs like me – Huskies) that would be willing to take me to training classes. I have met several dogs whilst being here but I don't know how to say hello!  I jump all over the place and get myself quite worked up; however, I know that after a little time and patience, I would love to be walking side-by-side with another dog in a very calm manner.
If my new owners put in the time and effort to help improve my behaviour around other dogs, one day I could potentially share a home with a canine pal.  I am a lovely boy with a big personality and the staff at SDR say that they are confident that I would make a great, affectionate addition to the right family.
All I need is a little time and a lot of tasty treats!