The location of this month's Travel Feature offers a wealth of wildlife, with the chance to meet beautiful orangutans, discover headhunter heritage and delve deep into nature.
Borneo, the third-largest island in the world, is located in Southeast Asia and divided across three countries – Malaysia and Brunei in the north and Indoniesia to the south.
The lush gem of an island has become a popular holiday destination for British holidaymakers, especially during the dry season between March and October, where the climate is still hot and humid but keeps the dramatic downpours of rain to a minimum. With direct flights now available, the destination has also become much more accessible and affordable.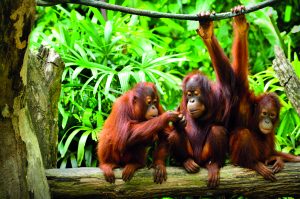 The best way to enjoy Borneo is by travelling as part of an organised group, where everything is arranged for you and you can enjoy travelling with like-minded people. Consider The Best of Borneo Tour – which includes all of the highlights of this beautiful destination.
Here is just a taste of some of the wonderful places and experiences awaiting you if you decide to visit this spectacular part of the world.
Kuching – This stylish and sophisticated city brings together a multitude of cultures, crafts and cuisines and nothing beats a wander down the waterfront promenade soaking up the individual cultures, including a visit to the Chinese History Museum and perhaps a sampan ride across Kuching's river to visit a traditional Malay village.
Bako National Park – One of the best places in Sarawak to see rainforest animals in their natural habitat, and yet only 37km from downtown Kuching.
Semenggoh Nature Reserve – 740 acres of sanctuary for the orangutans who have been rescued from captivity and young orphaned primates.
Take the opportunity whilst in the area to visit Batang Ai and meet Borneo's native Iban people, renowned for their practice of headhunting! You might also witness a performance of a traditional war dance in full regalia.
Kota Kinabalu – Located in Borneo's other state of Sabah, this vibrant city offers plenty to do. Visit Sabah State Museum, the Blue Mosque and Chinese Temple as well as the largest statue of Kwan Yin (the Goddess of Mercy) and that is before you stroll through the oldest part of the city savouring the spice bazaar and handicraft markets.
Sandakan – Offers you the opportunity to visit Sandakan Memorial Par, commemorating British and Australian prisoners of war during World War II.
Sepilok Orangutan Rehabilitation Centre is where you can experience a close encounter with the orangutans who are undergoing a rehabilitation programme to return to the wild.
Your trip would not be complete without a cruise on the Kinabatangan River where you can spot the wildlife – whether this be a hornbill, pygmy elephant or orangutan!!
There is such a magnificent variety of experiences in Borneo. If you are thinking of travelling you do not require any visas, but will require some vaccinations. The local cuisine is diverse and there is something to be found for everyone; accommodation is generally selected for its location and may vary, but will have private bathroom facilities, air conditioning, TV and telephone.
What will it cost? A 16 day classic tour including flights, transfers, accommodation and excursions as featured exclusively by Spear Travels is £3,990 per person (based on September 2018 departure) for more details contact ………