Hello! My name is Molly. I'm about a year old and of mixed breed.
Molly arrived in the care of SDR last July when a litter of puppies had been found abandoned in a crate.  Molly was re-homed, but sadly returned to us in January as she suffers from Separation Anxiety.  The staff have been working with Molly since being returned as she would 'alarm' bark at people she didn't know and was quite reactive around other dogs, due to fear.  Molly has made a massive improvement and we feel she is at the point where she can start her search for a new home.  New owners will need to be prepared to put in the time and be committed to Molly's ongoing training.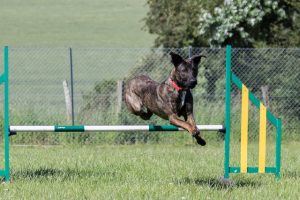 She is a very intelligent young girl and would benefit from undertaking scent work training.  Calmer exercise is also a benefit to her as due to her nervous side, she can't cope with too much adrenaline running through her system and it takes a while for 'come back down' and settle; this is why we feel scent work would be a very good and appropriate outlet for Molly.  She will need someone who can be around for the majority of the time due to her separation anxiety; owners will need to help Molly overcome her separation anxiety and help and advice can and will be provided by our behaviourist.  With time and patience, this beautiful girl has huge potential.
www.stokenchurchdogrescue.org.uk
01494482695