Are you in the Market for a safe shopping experience?
Thame was granted a Royal Market Charter in 1215 and markets have run in Thame every Tuesday since then. Looking back through history, this is certainly not the first pandemic the market has faced, and despite the challenges COVID-19 has created, it has continued to trade throughout lockdown.
A trip to the market guarantees you a vibrant display of produce, gifts, homeware, clothes and more with friendly traders always ready to help – the only difference now is that the stalls are spread out to take full advantage of the town's wonderfully wide high street. Clear social distancing measures are in place with stalls providing hand sanitising opportunities – making sure that you feel completely safe as you browse all the market has to offer. On the second Tuesday of each month, the regular market is joined by Thame's Farmers Markets, with stalls displaying an incredible range of produce grown and made within a 50 mile radius of Thame.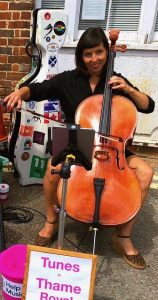 On a visit to the market you may enjoy some live entertainment – most recently from local cellist Jess Cox. Passionate about bringing live music back into the community, she has been raising funds for helpmusicians.org.uk – a charity supporting the Arts in the UK which have been hit badly by Covid 19 and are struggling to survive.
If you are looking for other ways to enjoy Thame safely there are also many other opportunities to get out and about in Thame with several free walking trails available to download at https://www.thametowncouncil.gov.uk/visit-thame/town-trails/. Some of these take in the beautiful surrounding countryside, and some have a focus on History, leading you on a journey of discovery around the streets of Thame.