Pilates isn't just for fitness fanatics. It's actually an accessible way to build strength in your core muscles for better posture, balance and flexibility.
Pilates is a method of low-impact exercise designed to strengthen the whole body, with particular emphasis on postural alignment, core strength, improving wellbeing and general fitness. Pilates exercises can be done on the floor with just a mat, on a one to one basis or in a class. Specialist equipment can also be used.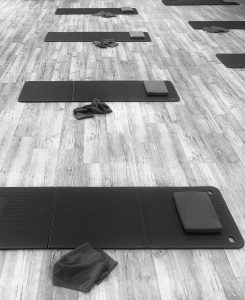 The practice has many health benefits. A Pilates routine generally includes exercises that will improve your posture, muscle tone, endurance, pelvic floor, flexibility, balance and joint mobility, as well as focusing on breathing and mindfulness to relieve stress and tension. It can assist in training for a variety of sports (learnt exercises being used before, during and after), reducing the risk of injury and improving technique, or equally in physical rehabilitation.  Pilates can help with the prevention and treatment of back pain and other postural ailments.
Pilates really is an exercise regime that can suit any ability, young or old! Each move can be adapted to provide a gentle strength training and stability program or it can be modified to give a seasoned athlete a challenging workout.
Louise Hunt