Japan is a country that can be enjoyed all year round; here is our guide to what is happening and when, to help you decide what time of the year you'd like to experience it.
Cherry Blossom Season
The Japanese have been writing poetry about and painting pictures of cherry blossoms for centuries, and even have a dedicated word for going out to fields and parks to appreciate it – 'hanami', which literally translates as 'looking at flowers'. When you gaze on the sea of soft pink flowers it's easy to see why both they and many international visitors are so enamoured.
Starting in late January in the sub-tropical south, the blossoms sweep up the country, reaching Tokyo and Kyoto in the first two weeks of April, though this can vary due to the weather. In the two weeks after they first bloom, locals and visitors alike stroll, sit and picnic beneath the laden boughs, but we particularly like to enjoy them lit up by lanterns at twilight.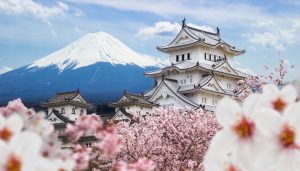 Cherry blossom season is extremely popular and our tours often sell out a long way in advance. If you want to travel during this period, make sure you book early!
Autumn Leaves
Japan's deep and rich autumn colours travel the opposite way to the cherry blossom, starting in the very north in September and travelling downwards, reaching its peak in Tokyo, Kyoto and the surrounding areas from November.
In the parks and temple gardens of the cities, the leaves of the multitude of maple and gingko trees turn vibrant shades of red, yellow and orange; if you are travelling into the Japanese Alps, you're in for an even more spectacular sight…
Sun and Snow
Japan's summer, June to August, may be hot and humid but it is the season for festivals and fireworks. Enjoy impromptu celebrations or escape to the mountains to find the cooler climes and maybe do some hiking – this is also the only time of year that you are able to climb Mt. Fuji.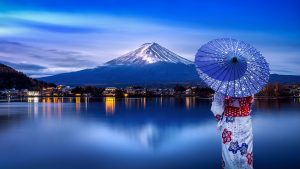 In the winter, outside the cities, the country becomes a snow-covered wonderland. Vibrant ski resorts spring into action, ice festivals take place (Sapporo's is the world's biggest) and the Japanese Macaques earn their Snow Monkey moniker. Oh, and there is nothing better than the glorious warm waters of an onsen on a cold winter's day!
Essential Info
Approx. Flying Time: 12 Hours Direct
Time Difference: +9 Hours
Visa Required: No
Currency: Yen
Wish to experience the exciting seasons of Japan for yourself?
Give our travel experts at Spear Travels
Thame a call today on 01844 217228 or email thame@speartravels.net. Don't forget to follow us on Facebook to be the first to receive all of our latest news and offers!