Are you a fan of the popular ITV series Midsomer Murders? Did you know that it's one of the longest-running TV detective dramas, since first being televised in 1997? It's still going strong today, watched by 6.5 million in the UK and millions more in over 100 countries around the world.
The latest series of Midsomer Murders – series 20 – began airing earlier this year. It's been filmed all over 'Midsomer County' – otherwise known as Oxfordshire and Buckinghamshire.
Did you know that Thame is one of the most used filming locations, with an amazing 22 locations in the town centre? It features as Causton or as one of the many villages in Midsomer. Buildings like the Town Hall, Thame Museum, Rumsey's Chocolaterie, the Swan Hotel, the Spread Eagle Hotel, the Coffee House and the Black Horse Pub & Brasserie have appeared in various episodes.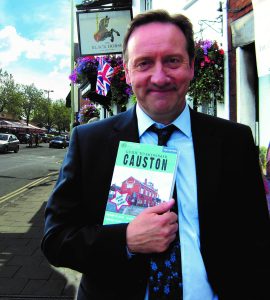 You can walk round the town with a free Thame Midsomer Trail leaflet (available at the Town Hall Information Centre) and view the locations for yourself, but you'll learn so much more about Midsomer and the history of Thame when you join one of our popular Midsomer walking tours. These tours are held weekly between April and October, led by specially trained guides. Your guide will point out Midsomer filming locations, talk about their appearance in Midsomer Murders, and give you interesting snippets about Thame's historic past as well.
The tour lasts about an hour and takes place every Wednesday at 11.00am until 30th October. It starts inside Thame Museum (79 High Street, OX9 3AE).
Tickets are £7.50 each and may be purchased online at www.ticketsource.co.uk/thamemidsomer. Alternatively, turn up on the day and pay at the Museum.
If you can't make the Wednesday tour, bespoke tours are possible for groups of at least four (contact thamemidsomertours@gmail.com for details).
Enter our Midsomer competition!
We've got three pairs of Midsomer Tour tickets to give away! If you'd like to win a pair of tickets, answer this question –
How many Midsomer filming locations are there in Thame town centre?
Send your answer to salesprv@live.co.uk by Friday 26th July
The first three correct entries will receive a pair of tickets for a Midsomer tour of Thame!